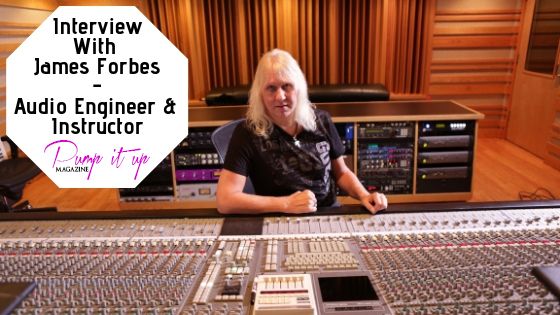 Kviečiame skaityti interviu su QR singlo "Tai tiesa" (2020) garso masteringo atlikėju James Forbes (JAV).
James Forbes jau daugiau nei trisdešimt metų yra garso inžinierius, Grammy apdovanojimų laimėtojas, dirbęs su pasaulinio garso grupėmis (Cinderella, Brian Johnson [AC/DC], Vinnie Moore, Chick Corea ir kt.) ir sunkiosios muzikos garso inžinieriais:
Shelly Yakus (John Lennon, Tom Petty, U2, Stevie Nicks, Don Henley, Blue Oyster Cult, Alice Cooper, Patti Smith, Dire Straits, Lou Reed, Bob Seger), 
Andy Wallace (Nirvana, Rush, Rage Against The Machine, Slayer, Dream Theatre),
Neil Kernon (Judas Priest, Dokken, Elton John, Queensryche , Yes, Thin Lizzy, Queen),
Obie O'Brien (Bon Jovi, Alice Cooper, April Wine, Hans Zimmer, Rik Wakeman),
Anthony Little (Justin Timberlake, Tina Turner, Backstreet Boys, Reba McEntire),
Rob Caggiano (Anthrax, Volbeat, The Damned Things),
Fred Frank (Chicago, Sly Stone, BT Express, Phyllis Hyman, Sunnie Paxson),
Glenn Feit (Motley Crue, Guns and Roses, WASP, Aerosmith),
Alex Perialas (Anthrax, Raven, Testament, Overkill, Bad Religion),
Chris Tsangaradies (Judas Priest, Black Sabbath, Yngwie Malmsteen, Thin Lizzy, Ozzy),
Scott Hull (Steely Dan, John Mayer, Nirvana, AC DC, Bruce Springsteen, Bowie, Aerosmith),
Bernie Kirsh (Chick Corea, Stanley Clarke, Return To Forever, Herbie Hancock),
Bob Katz (Ben Kinsley, Foghat, Paquito D'Rivera, Olga Tanon),
Pete Humphries (Teddy Pendergrass, Lou Rawls, Grover Washington Jr. Phyllis Hyman).
SKAITYTI INTERVIU: